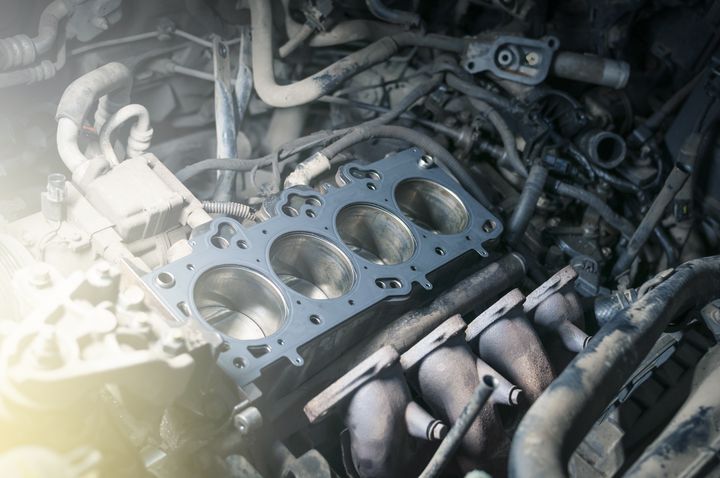 The head gasket is designed to seal off fluids from leaking and mixing together. It is a thin component made of steel and has a bunch of holes in it. The head gasket sits between the engine block and cylinder heads to create an airtight seal. By doing this, the combustion reaction is able to take place safely within the cylinder and prevent different fluids like the coolant and oil from mixing together.
Signs That Your Head Gasket Needs Repair:
Head gasket leaks and any other issue with different engine components can be difficult to deal with. Our shop has all the equipment such as gasket sealants and will ensure that we check your vehicle's service manual before our service. Any issues with the spark plugs, intake manifold, or block and cylinder can be easily taken care of by us. Here are some signs that you may need to get your head gasket repaired:
Leaks: If the head gasket needs to be repaired, oil leak or coolant leak is a clear sign that something is wrong with the head gasket. This means that there are potential leaks that our technicians will need to look at. Our technicians will check to see if there are any oil and coolant leaks.

Malfunctioning cylinders: When starting your vehicle or while driving your vehicle, if you notice the cylinders misfiring, this indicates a possibility of your head gasket needing to be repaired.

Discolored fluids: The head gasket is designed to prevent differences from mixing together. If you notice that the fluids in the engine are mixing and discolored, this could be a sign that the head gasket is broken.

Blue smoke: When the engine is on, if the head gasket is broken, blue exhaust fumes will come out of the tailpipes. If you notice blue fumes from the exhaust, bring your vehicle to DSX Regression Test 1 where our technicians will investigate the problem further and repair it.

Oil with coolant in it: The head gasket is designed to keep different fluids from mixing together in the engine.

Overheating: If the head gasket is broken, the engine oil may leak. This may result in the engine overheating since the engine oil is designed to keep the engine cool.

Startup troubles: Cylinder misfire is an indicator that the head gasket needs to be repaired. It is important to see if there is any blue smoke coming out of the exhaust.
It is a good idea to schedule an appointment with us if you are experiencing head gasket failures. Our technicians at DSX Regression Test 1 in Mountain View are knowledgeable with anything related to the cooling system, gasket sealing, the combustion chamber, and the radiator cap. We will only charge you for only the necessary services and will work with you to ensure that the repair cost remains affordable for you.
DSX Regression Test 1 - Your Trusted Shop for Head Gasket Repair
When the time comes to bring your vehicle in for repairs, you can bring your car to DSX Regression Test 1 in Mountain View. We perform services in all aspects of all auto repair, including Check Engine Diagnostics, scheduled maintenance, and tune-ups, and Auto Repair. Repairing a blown head is a simple procedure that we can accomplish. Since 1998, we have taken a dignified and sensitive approach to auto repair, treating each and every customer with respect. We are very transparent about the services we think your vehicle needs and will never recommend any service that isn't absolutely necessary. If you are in the 94043 area or nearby, don't hesitate to bring your vehicle to DSX Regression Test 1 today! Reasons You Should Do Business With Us:
Transparency
Honesty
Integrity
We are Experts
Years of Experience
To make an appointment with DSX Regression Test 1 in Mountain View, you can give us a call at 808-555-1212 or do so online. DSX Regression Test 1 - Quality you Can Trust, at a Fair Price!.